Connie McNally,
Member
Advertisement
Sponsors
A big thanks to all our sponsors! Below you will find short descriptions of our sponsors and links to their home pages.



Amazon.com
Administrative Assistant's and Secretary's Handbook

Completely revised. Now covers: Time and Stress Management, Business Math, Troubleshooting Computer Problems, Electronic Records Management, Web Conferencing Software and Logistics, Presentation Skills and Public Speaking, Office Management and Supervision, Event Planning and More!
All About Gifts & Baskets
Use All About Gifts & Baskets for an easy way to say "Thank You" to your best clients for their business. Featuring high-quality fruit baskets, food towers and personalized gifts, members can enjoy up to a 15% discount on corporate gifts throughout the year on large orders. Gifts also make a great way to congratulate a colleague or client on a New Baby, or send a thank you gift after a visit. AEAP members should call 1-866-590-1388 to speak with a corporate gift concierge to enjoy the best discounts or use code AEAP17 to order on website http://www.aagiftsandbaskets.com/corporate.html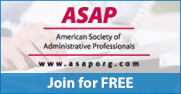 American Society of Administrative Professionals
The American Society of Administrative Professionals (ASAP) is the largest free international association for Executive Assistants and Administrative Professionals. We're 75,000+ members strong and growing! Members get access to PACE Certification, online and live training, extensive resources, and